As we prepare to remember the greatest act of love ever performed, I want to share some of the craziness of my family. One of our great Easter traditions is the infamous lamb cake. I will be honest, as a little girl, I was so confused as to what bunnies and lambs had to do with eggs and Easter. Since then, I have gained understanding of Jesus being the sacrificial lamb who died for our sins. The egg-laying bunny is still a mystery!
Growing up, part of the excitement of Easter day was to see if the head of the lamb cake would fall off. I thought it was so funny that my mom would experience such angst over the head of this lamb…until she passed on the tradition!
It was a few years ago when my mom was cleaning out her basement and came across the lamb cake mold. By that time, she had retired from even trying this baking feat for many years. It was on its way to Disabled American Veterans along with the other unwanted items.
"Mom, why are you giving up the lamb cake pan?"
"I am done worrying about the head falling off. But if you want the challenge, it is all yours!"
That is when my competitive nature took over! I accepted the challenge. So far, the head has stayed intact for all but one of the past five years.
We even made one for Easter 2020 – and of course, like everything else in 2020, it was a little off. My daughter hijacked the cake decorating and turned it into a Joe Exotic tiger-lamb cake with a trending TikTok. (Jesus, please forgive us.)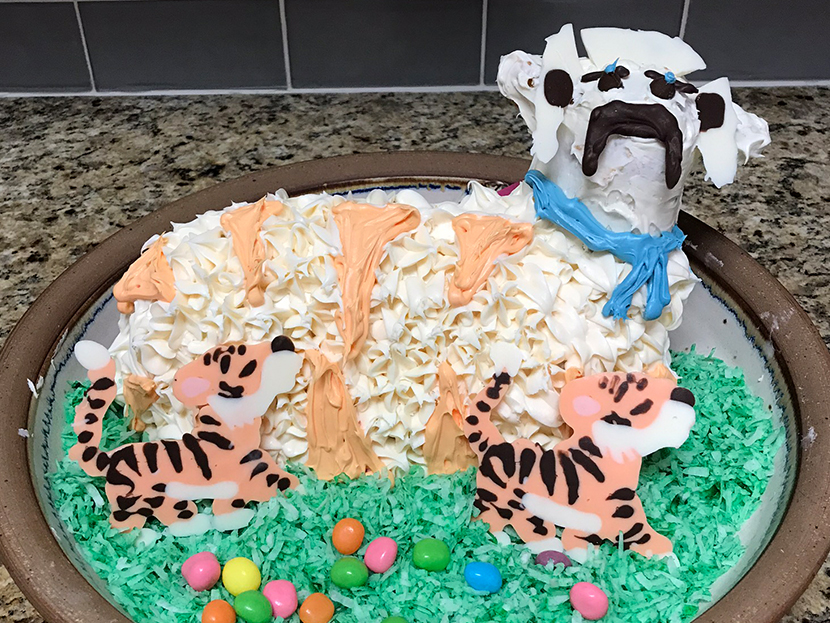 Well, 2022 is looking good. I tried a new recipe this year – a Cream Cheese Pound Cake. I baked it last night, and so far, the head is still attached.
***A hint for anyone wanting to try one of these cakes – put wooden skewers in the cake batter, and bake them in the cake. It adds strength the neck. Just be careful when you cut it!***
Regardless of what you have this year for dessert, I pray that you have a personal encounter with our Lord and Savior Jesus Christ. He came that you may have life, and life more abundantly.
He has risen!
God Bless